Company profile · Partner company

Provide optimal service
with global partnership and technical capabilities

We will collaborate with overseas companies with advanced technology on wind power generation equipment, provide optimal service with the latest technology and reliable know-how.
Company profile · Partner company
Message from the President
Aim for the development of wind power generation
and the creation of a sustainable society

As demand for renewable energy increases, wind power generation is the most significant part accounting for about half of all renewable energy in the world. In Japan, wind power is also attracting more attention due to FIT, and it is anticipated that dramatic growth, including offshore wind, will continue in the future. On the other hand, potential problems such as aging of installed wind turbines, breakdowns due to lightning strikes, typhoons, weather conditions specific to Japan, etc., and stops due to malfunctions, maintenance burdens, etc. are all increasing. Proper maintenance is vital for the sound operation of wind power generation. Advanced designs, manufacturing know-how and special blades materials are used, and specialized knowledge and advanced skills, experience, and information are indispensable for maintenance. Blade Partners has long experience with all leading wind turbine manufacturers.
With skilled technicians, it is possible to judge the defect by using advanced know-how and technology, diagnosis of operation and optimum maintenance. In addition, we conduct seminars focusing on practical training at training facilities and are trying to upgrade skills and knowledge of technology.
President Hiroo Akabane/Blade partner Co., Ltd
President Henrik Frederiksen/Blade partners Europe A/S
Company profile
| | |
| --- | --- |
| Company name | Blade Partners Co., Ltd. |
| Headquarters | Kasumigaseki Building 15F,2-5,Kasumigaseki 3-chome,Chiyoda-ku,Tokyo,100-6015,Japan |
| TEL | +81-3-3519-3915 |
| FAX | +81-3-3519-3912 |
| Territory | Japan, Asia, Oceania |
| | |
| --- | --- |
| Company name | Blade Partners Europe A/S |
| Address | Kløvervænget 26, 6100 Haderslev Denmark |
| TEL | +4520808670 |
| Territory | Europe, Africa, the Americas |
Business Affair

· Inspection, defect evaluation, repair, replacement work etc. of wind turbine blades
· Sales and installation of various blade relating items: lightning protection system, lightning recording device, improvement of LE erosion resistance, vortex generator, etc
· Inspection of wind turbine tower, nacelle etc, exterior repair etc.
· Inspection, evaluation and repair of offshore wind turbines and blades
· IRATA training and certification
· Transportation, sales and training for materials for blade maintenance and emergency aid.

Repair experience
LM(Including repairing chip brake system), Vestas, Siemens,
GE (Almelo, Tecsis), Nordex, Bonus, HITACHI, JSW, Senvion (Repower), MHI-Vestas, Micon,
TPI composite, Enercon, Acciona, Alstorm, Gamesa, etc.

(arbitrary order, honorific titles are omitted)

Main qualification
LM Level 4 (expert)
Vestas Level A
Siemens Level C / B
IRATA Level I to III
Japanese Special seminars/
training on handling gondolas
and high altitude rope work

Office
Please inquire to any of office and we will come from nearest office.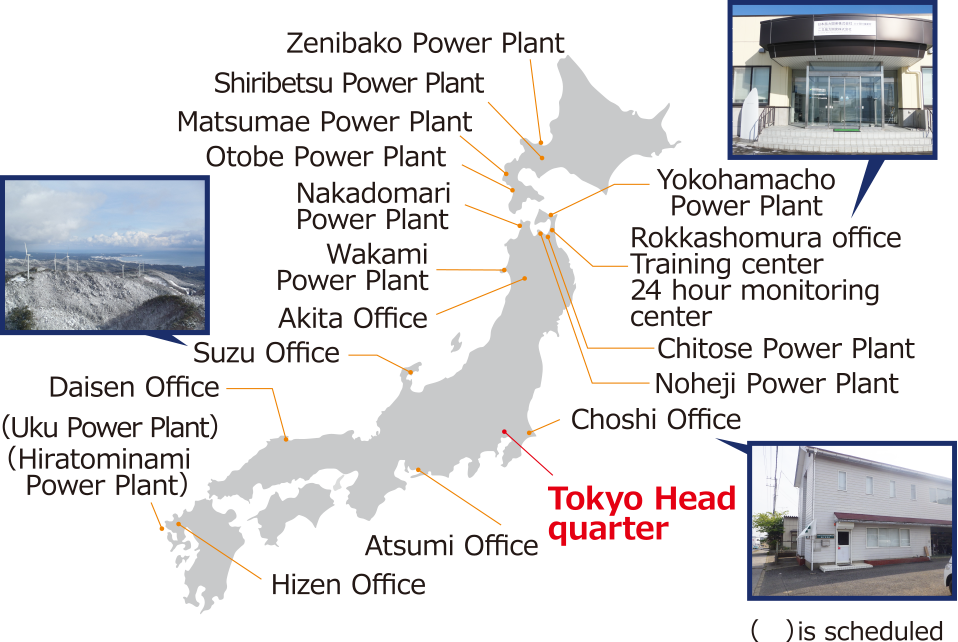 Partner company
·Poly tech

To provide solution to reduce leading edge erosion by preformed protection.
·Power Curve

To provide better solution of power increase based on VG skills.
·Kaeufer

To provide work platforms for blade repair
·Skylotec

To provide Safety, Personal Protective Equipment (PPE) and so on related to wind power.
·Actsafe

To provide electric and engine-driven tools for rope work and lifting operation.
·Kuhlmann

To provide industrial heating blankets for blade repair.
·VIKING

To provide immersion suits, jackets and so on for maritime and offshore safety.
·EMG

To provide tool bag with durability of heavy duty construction for maintenance, rope work, and etc.
Customers
(arbitrary order, honorific titles are omitted)
Japan
· Japan Wind Development Co., Ltd.
· Hitachi, Ltd.
· Daigas Gas and Power Solution Co.,Ltd.
· Torishima Pump Mfg. Co., Ltd.
· MEIDENSHA CORPORATION
· J-Power
· Kinden Corporation
· WIND POWER ENGINEERING Co., Ltd.
· KYUDENKO CO., LTD.
Europe
· LM technology center
· Senvion
· Vattenfall
· Falck Renewables
· Nordex
· MHI-Vestas
· Power Curve
· Kaeufer
· Skylotec
· Actsafe
· Kuhlmann
· VIKING
· EMG